Corner Leverage Gym Package, Includes GFID100 Bench
Corner Leverage Gym Package, Includes GFID100 Bench
Product Description
Corner Leverage Gym Package, Includes GFID100 Bench
FEATURES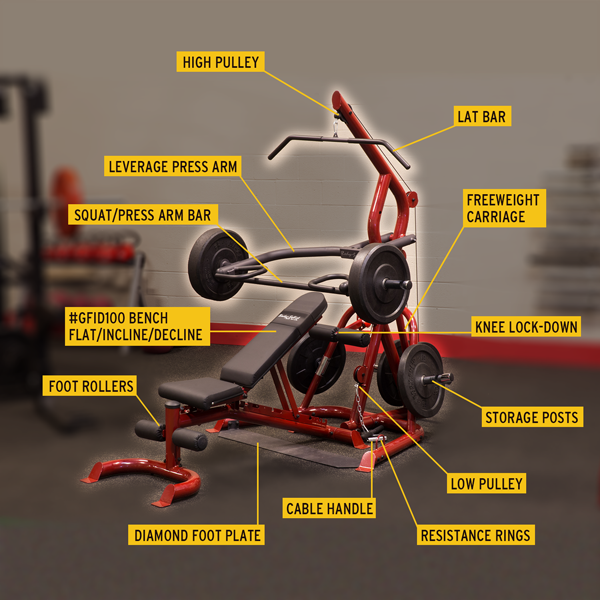 Perform shrugs, squats, dead lifts, biceps curls and everything in-between more easily and effective. With a revolutionary space-saving design the GLGS100P4 fits comfortably into most home and commercial settings. With an all-new, high-tech/high-gloss anodized red finish, this gym not only stands out for its performance but also its looks.

The swing arm/press arm station has a large radius to greater simulate a straight up and down motion. The press arm bar can also be raised to its highest position allowing the GLGS100 to be used as a pull-up/chin-up station.

An adjustable knee lock-down makes lat pulldowns easier than ever while the low pulley station is perfect for curls and multiple row exercises. Attached weight horns make weight storage easy.

The included premium GFID100, Flat / Incline / Decline Bench can slide in and out allowing for ease-of-use and a smooth transition from exercise-to-exercise while attached wheels make transport a breeze. Stand-alone design allows bench to be used completely independently of the gym system.
Includes (1) Lat Pulldown Bar and (1) Revolving Cable Handle.

Save time and space with the all-new Body-Solid GLGS100P4 Corner Leverage Gym.
DIMENSIONS
Assembled Weight: 247lb / 112.04kg

Assembled Dimensions: Width Length Height
67.00in / 1,701.80mm 95.40in / 2,423.16mm 83.00in/2,108.20mm

Package Dimensions: Width Length Height
35.00in / 889.00mm 7.50in / 190.50mm 45.00in / 1,143.00mm
Volume Gross Weight
6.84 ft3 / 0.19 m3 121.00lb / 54.89kg

Package 2 Dimensions: Width Length Height
25.60in / 650.24mm 7.30in / 185.42mm 62.00in / 1,574.80mm
Volume Gross Weight
6.71 ft3 / 0.19 m3 77.00lb / 34.93kg

Package 3 Dimensions: Width Length Height
21.00in / 533.40mm 7.10in / 180.34mm 53.00in / 1,346.20mm
Volume Gross Weight
4.57 ft3 / 0.13 m3 58.30lb / 26.44kg
Product Reviews
This product hasn't received any reviews yet. Be the first to review this product!
Customers also viewed