Product Description
Fusion Chin Dip
FEATURES
Stack up your personal best with Body-Solid's Fusion Chin Dip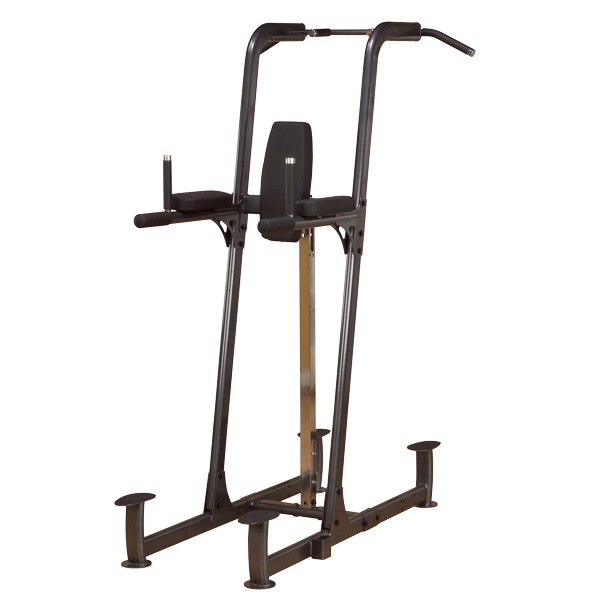 By doing pull-ups chin-ups and dips, you can effectively and efficiently build muscles in your arms, shoulders and back. Add vertical knees raises, and you'll soon see an increase in definition of your lower abdominal muscles. Best of all, the benefits of these exercises can be enjoyed by fitness enthusiasts of all skill and strength levels.
Lat Pull-Up (wide grip) / Chin-Up (close grip) Station features easy step-up entry.
Easy access Dip Station features oversized diameter grips for ultimate comfort
Ultra-thick DuraFirm™ back, arm and knee pads.
11 gauge steel frame with 1 5/8" x 3" oval tubing
2"x 2" all-4-side welded high tensile strength steel mainframe construction
Ideal for home and commercial use
DIMENSIONS
Assembled Weight: 136lb / 61.69kg

Assembled Dimensions: Width Length Height
27.00in / 685.80mm 65.00in / 1,651.00mm 83.00in/2,108.20mm

Package Dimensions: Width Length Height
14.17in / 359.92mm 65.35in / 1,659.89mm 9.06in / 230.12mm
Volume Gross Weight
4.86 ft3 / 0.14 m3 70.40lb / 31.93kg

Package 2 Dimensions: Width Length Height
24.80in / 629.92mm 43.31in / 1,100.07mm 6.69in / 169.93mm
Volume Gross Weight
4.16 ft3 / 0.12 m3 74.80lb / 33.93kg
Product Reviews
This product hasn't received any reviews yet. Be the first to review this product!
Customers also viewed
$725.00

$1,305.00

$670.00

$490.00